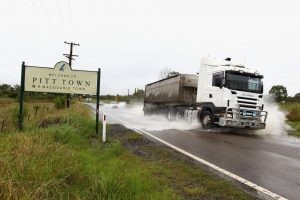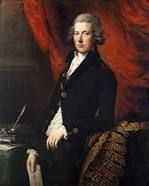 Pitt Town is named after William Pitt the Younger – the 18th Century British Prime Minister. He became the youngest British Prime Minister in 1783 at the age of 24. He is known as "The Younger" to distinguish from his father, who was a previous Prime Minister. Pitt Town is one of the 5 Macquarie Towns established by Governor Macquarie in 1810. The other 4 include Richmond, Wilberforce, Windsor and Castlereagh, all located on or around the Hawkesbury River. A site for a village was laid out in 1811 but developed very slowly and was relocated to its present location by 1815. By 1841 there were only 36 houses in the town. The street names of Pitt Town bear testament to the 1808 British Cabinet, including Eldon, Grenville, Bathurst, Liverpool, Buckingham,Chatham and Chandos Streets. Chandos Street was later renamed Church Street.
In 1987, the Pitt Town Shopping Centre was constructed with the Bird in Hand Inn being converted to a public inn. For most of the 20th Century, it served as a general store.
Pitt Town has one public school in Buckingham Street, two churches (St James Anglican Church on Bathurst Street and The Scotts Church opposite in Bathurst Street) and two cemeteries. The Pitt Town General Cemetery is located off Old Stock Route Road and the Pitt Town (St James) Anglican Cemetery is off Old Pitt Town Road. It contains many of the early pioneers of Pitt Town.
In 1981, Pitt Town became known nationally and internationally as the setting for 'Wandin Valley' in the long-running television series A Country Practice (1981-1993). The series was broadcast twice weekly on the Australian Television Network 7.
HISTORIC BUILDINGS & SITES
Pitt Town has many heritage buildings in excellent condition with many recognised as local and state listed heritage items.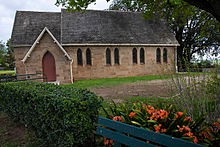 St James Anglican Church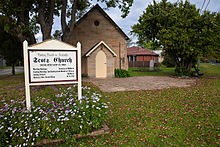 Scots Presbyterian Uniting Church
Bona Vista in Amelia Grove was built in 1888. Bona Vista is of high historical significance as a substantial Victorian farm group which survives with its slab outbuildings. It is highly evocative of the nineteenth century character of the higher lands around Pitt Town which were often used for orcharding. The main homestead is a well built residence featuring a broad ogee roofed verandah, fine slate roofing and sandstone walls. The surviving corn shed is important for its unusual construction, unique in Australia to the Hawkesbury region.
The television drama series "A Country Practice" used Pitt Town for many external scenes. The heritage house opposite Pitt Town Public School was used as the home of characters Frank and Shirley Gilroy. The Hardware Store on the corner of Bathurst, Eldon and Grenville Streets was known as 'Muldoon's Store', and the Bird in Hand Inn was known as the 'Wandin Valley General Store'.
PITT TOWN REGION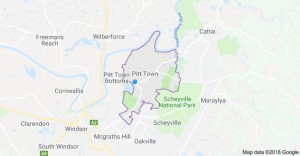 Pitt Town and District encompasses the township of Pitt Town and surrounding rural-residential, rural and national park areas. Rural land is used largely for farming, particularly hobby farming, horse studs and turf growing. Major features of the area include Cattai National Park (Mitchell Park), Scheyville National Park, Pitt Town Nature Reserve, Lynwood Country Club, Pitt Town Lagoon, Longneck Lagoon, Brinsley Park, Cattai Bridge Reserve, Maraylya Park, War Memorial Park, Longneck Lagoon Environmental Education Centre, the Hawkesbury River and several schools.
SCHOOLS:
Pitt T

own Public School – 17 Buckingham St, Pitt Town

Windsor High School – Mulgrave & Windsor Rds, McGraths Hill
SHOPS:
Pitt Town Village offers all the necessities including IGA Supermarket, Bakery, Hot Food Takeaway, Pizza Shop, Vintage Pantry Cafe, Pitt Town Butcher, Smiles Dental, Pitt Town Bottle Shop, Pitt Town Pharmacy, Jeana's Hair Salon, BP Petrol Station and Bird in the Hand Hotel.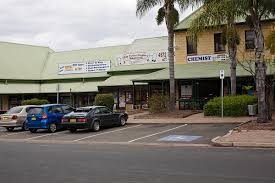 2016 CENSUS DATA
Pitt Town has a population of approx. 4886 – ERP 2017 (Source: Hawkesbury City Council). The average age in Pitt Town is 35 and its getting younger. Most households are couples with children, with the 2016 census showing that most households have 3-4 people living in them. 55% of households have a mortgage, and unemployment is a low 2.9% compared with 6% for the greater Sydney area. Most people have vocational qualifications working in the industries of Construction, Retail Trade and Health Care. Most people are employed as Managers, Clerical/Administrators and Technicians & Trade workers. Pitt Towners mostly travel to work by car, or work from home, with most households owing 2-3 cars. Families mostly have Primary age school children and pre schoolers., with the largest growth being in the age groups of 0-9 years. The majority of people (44%) are or Australian origin, followed by English and Irish descent, with English (90.3%) being the predominant language spoken. Religions include Catholic, Anglican and Pentecostal. Household income sits in the higher quartile of $2000 – $2499 per week. There are 1394 dwellings in Pitt Town, of which 94.8% are separate houses, with 4-5 bedrooms on the increase. Home Owners make up 28.5%, with 55% purchasing their home and only 10% renting.
Source: Wikipedia, Profile ID Hawkesbury Pitt Town